Singer sewing machines for beginners
Singer offers a variety of sewing machines for beginners that are great for sewing simple projects and easy bags. There are a lot of models which can be bought in less than $200. However, I haven't ever used a Singer sewing machine so I can't say anything about them from my experience. I'm assuming these machines are quite good based on the reviews they have received on Amazon. I still suggest that you also do a bit of your own research before purchasing the machine.
This will be the cutest machine to gift to a twelve year old who is enthusiastic about sewing.  Why? Because it's so inexpensive and comes with 6 built-in stitches; straight, zigzag, satin, blind hem, scallop, buttonhole. 
It can perform all the basic functions and can be used for easy sewing projects. Great machine to practice sewing and is also quite popular among the customers as it received a rating of 4.3/5 stars. Get the current price here.
The best thing about this machine is it's extra high sewing speed. It also has a Heavy Duty Interior Metal Frame which ensures that the machine remains still for skip-free sewing.
It comes with 11 Built-In Stitches – essential, stretch, decorative, 1 automatic 4-step buttonhole.
It was bought by 1000+ customers and 66% gave it 5 stars so it must be quite good. Get the current price here.
You can consider this as an upgraded version of the Singer 1304 mentioned above.
It's a simple home sewing machine with 19-stitch built-in stitches. It does not have a top load bobbin system though, which I think is mostly common for Brother models only.
It's rated as 4.3/5 which is also quite good.
Get the current price here.
This machine is actually a better version of Singer 4411 as it comes with 32 built-in stitches – 6 essential, 7 stretch, 18 decorative, 1 fully automatic 1-step buttonhole as well as automatic needle threader is the biggest time saver which you do not find in Singer 4411.
This sewing machine received 4.4/5 stars on Amazon. Get the current price here.
And now coming to the LAST machine on the 10 Best Inexpensive Sewing Machine for Beginners list which is the SINGER 7258 an award winning machine. 

I think this would be the best buy among ALL the singer machines for a $200 budget as it's
Computerized
Comes with 100 stitches.
TEN presser feet that can be used for sewing as well as quilting
Automatic needle threader
Top load bobbin (MY FAV as I said earlier)
Electronic auto pilot through which you won't have to use your presser foot and you can just adjust the machine to sew on it's own. Awesome right? You can check out the current price here.
Plus, I think by far this is the machine that was bought by MOST customers (2,190) and 72% gave it 5 stars. So this one's definitely a winner.
Final Verdict 
If I were you and I had a budget of $200 I would go for Brother Project Runway CE7070PRW or SINGER 7258. 
Nevertheless, I would still recommend you to do a little of your own research for your satisfaction for any of the models mentioned in this list of best sewing machines for a beginner before purchasing your machine.
Want more? Check out this list!


The End
Okay, that brings us to the end of the post where I shared 10 Best Inexpensive Sewing Machine for Beginners. I hope you gained some great information through this post and if you did do share this post with your friends who love to sew too.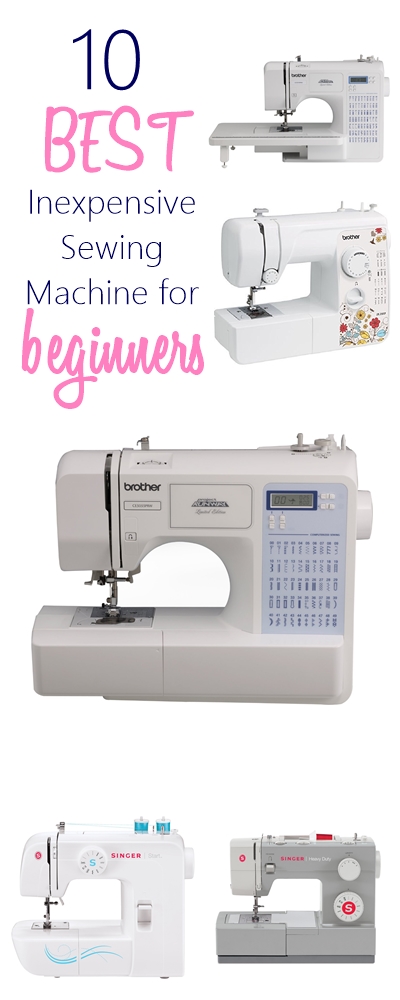 Be my sewing buddy and get a FREE colorful sewing planner!
Just enter your name and e-mail address in the boxes!
Don't forget to check out these awesome posts too!