There are many online canvas painting tutorials but in this DIY Easy Canvas Art tutorial I am gonna show you how I reproduced this work that I saw on the subway station in a super easy way.
This idea is great to make a statement art piece for your room on a huge canvas board.
Pin  this image on your DIY décor board now.
I have had this project in mind from the time I first saw these canvas arts on one of the train station tunnels here in Kuala Lumpur.
They are a series of 5-6 different paintings, but I could only capture these two. And as you can see the second art is the inspiration for my easy canvas art tutorial.
A lot people wonder what kind of paint to use on canvas, well I think for a beginner any kind of paint would do. I have worked with acrylic paint as well as fabric paint. Normally experts use oil paint but I would stay away from it because it's difficult to deal with.
DIY Easy Canvas Art Tutorial
Supplies:
Acrylic paints of your choice

Canvas

Basic stationary supplies

White printer paper
You can say this is on the easy canvas painting tutorials for beginners. I used this link to download the silhouette butterflies then I just traced the butterflies on to the white paper by just placing it on my laptop screen. 😛 I did tweak in their sizes to make them the size I wanted.
Then I cut them out.
Then I traced the butterflies onto the canvas.
After tracing out the butterflies, I just took a ruler and drew out these random lines. Now its totally up-to you how you want your lines to be.
Next, just PAINT! 😀 But, be sure to be neat around the edges.
When done with painting, I drew a border around the butterflies using a black permanent border and then just painted them in red.
Point to be noted is, before finally painting the red I first tried blue by painting it on the cut out and placing them on the canvas. But, it was a big NO NO.
And finally it was done! Super easy right?
What do you think? Will you make one for yourself? 
To check my other canvas art tutorial visit this link.
Learning to paint with acrylic? Start off with this (AD) FREE Acrylic Painting class on Craftsy?

Here's an idea of how you can incorporate your canvas art with your home decor. Pin it onto your home décor board on Pinterest.
P.S. You might also like this round up of 15 superb canvas art tutorials which includes several canvas painting ideas.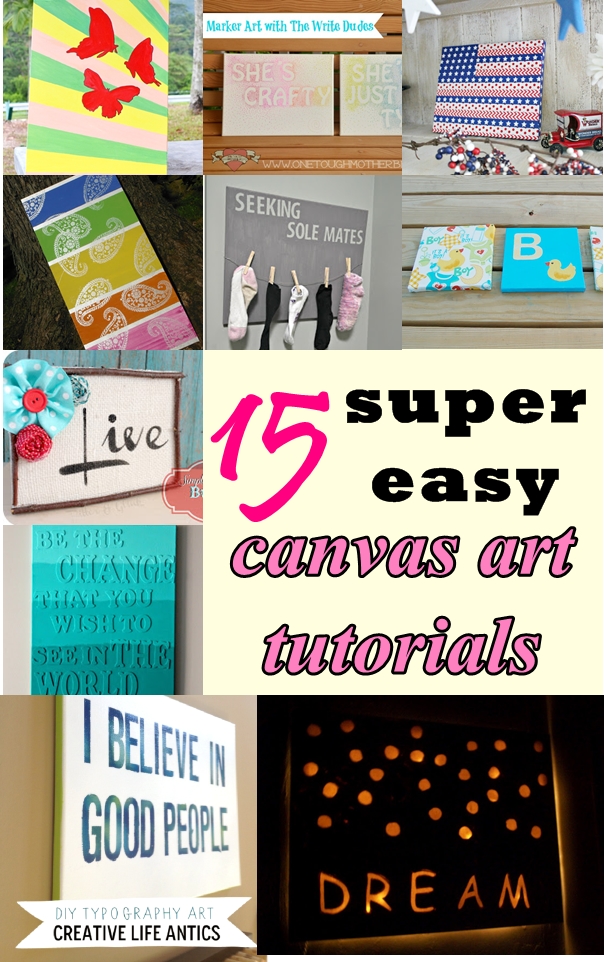 © Copyright believeninspire.com 2011 – 2013
Don't forget to sign up for our twice a month newsletter for FREE printable!