Here's a list of best online fabric stores. Why are they best? Well, because of their awesome perks and discounts. I have listed them down here with all the perks they offer. If you subscribe to their newsletters, you could also be alerted with the seasonal sales and discounts. Some of the stores are also online quilt fabric stores.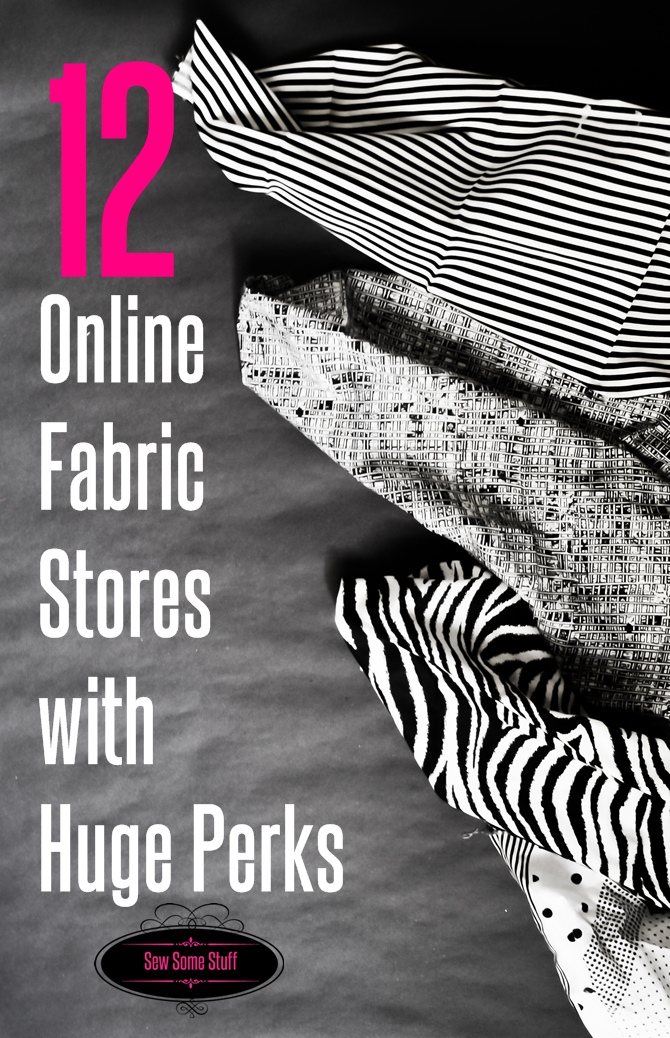 Pin this image on your Pinterest board for future reference.
12 Online Fabric Stores with Huge Perks
DISCLAIMER: THIS POST CONTAINS AFFILIATE LINKS
1. Fabric.com has great daily deals as well as a 25% discount on your first order after you sign up for their email list. They have apparel fabric, home decor fabric, quilting fabric as well as notions and patterns.
2. Hancock fabrics (no longer in business).
3. Loralie Designs offers international shipping for just $25.25 delivered in 6-10 days.
4. Joann also offers huge amount of coupons and discounts. They're currently having a clearance sale with everything 80% off.
5. Fabric Mart: As a first customer you get 20% off and an additional 10% off when you like their Facebook page. You can also shop for designer fabrics at fabric mart.
6. The Smuggler's Daughter: They have a special collection of eco-friendly fabrics along with the other fabrics. Psst they have a sale going on currently till 31st August with cotton, linen and lightweight knit fabrics at 20% off. If you're looking to shop for fashion fabrics (knits as well as woven) this is a great place to get started.


7. Premium Sewing Outlet :  You get 10% off for signing up to their newsletter. They're also having a back to school sale. Visit this page for details. This is a great place to shop for embroidery designs, sewing supplies like fabric cutters, pressing tools, threads, notions, patterns and books.
8. Gotcha covered quilting: Like the name suggests this is a great online quilt fabric store. They have daily discounts. Make sure you visit their website for the best deals.(UPDATE: As of 30th May 2016 the shop is closing down and all the fabrics are 40% off. Use the code GCQSALE)
9. Harts fabrics: Gives you the opportunity to join their sewing club through which you can earn rewards and free fabrics.
10. Quilt home has daily coupons! It is also a great place to shop for collection fabrics. They have a huge range of fabrics from different designers that you won't find easily. I fell in love with Downton Abbey collection.
11. Elliot Berman Textiles gives you 10% off code for your first order. They also have deals of the day.
12. Decorator's Best offers $20 off your first order.
BONUS: Before you leave I have another great store recommendation, which is Craftsy. They have a couple of great designer fabrics that you can purchase at affordable rates during their sales period. If you sign up for our email list on the side bar you can get notified about when the sale starts and get your favorite pieces in time. 
So did you like this list? Do you know more of online fabric stores that offer great perks? Share in the comments below. Before you leave, don't forget to pin this post for future reference or share with your sewing circle on Facebook. We have sharing icons at the bottom for that. 😀
Want more awesome sewing tips and free sewing patterns? Sign up for the newsletter at the bottom of the post. Psst. every subscriber gets a FREE bag sewing pattern.
Want FREE sewing patterns and tutorials? Enter your e-mail!