Best Inexpensive Sewing Machine for Beginners
In this post I'm sharing some of the Best Inexpensive Sewing Machine for Beginners so that beginner sewists can start the sewing journey on the right foot by choosing the best and affordable sewing machine for their use.
Do keep in mind all these machines are home sewing machines and will only be able to handle medium weight sewing.
I have included two different lists; one containing brother sewing machines and the other for singer sewing machines. I'm assuming that your maximum budget is $200 so all the sewing machines included in this list are either $200 or below. All of those machines have received 4.5 stars or above ratings.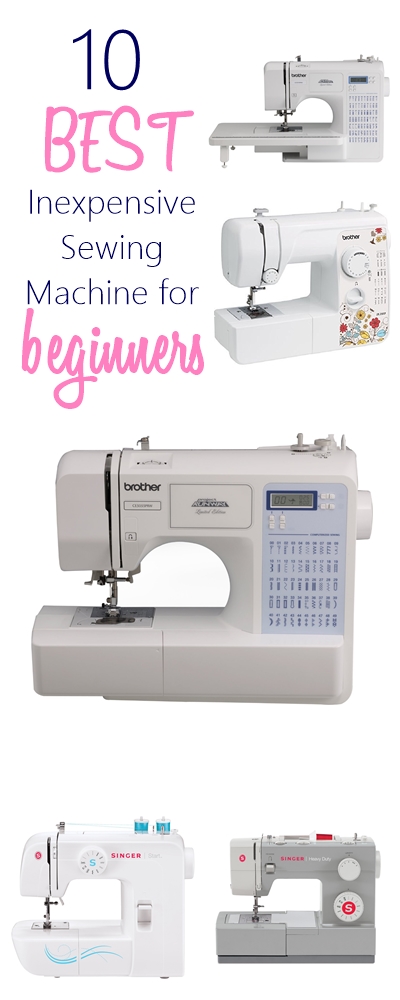 Pin this image to refer to it later.
Brother sewing machines for beginners
I'm personally a Brother user and I just LOVE my machine. I purchased quite an old model which is no longer available on Amazon but I think you can find it in Walmart. It's the JS1400. Although it's a home sewing machine it allows me to sew bags on it if there aren't many layers. But, the task becomes quite challenging if the layers increase. So, I will not recommend these machines if you want to do some serious bag making.  Anyway, let's look at the list of best sewing machines for beginners by Brother.
DISCLAIMER: Some of the links in this post are affiliate links and I will receive a small compensation for any purchase made through these links. Also, I have chosen these machines based on the reviews they received on Amazon and I would recommend that you do your own research on each of the models for your satisfaction before you purchase them. I will not take responsibility for any loss or damage. (Sorry!)
 Brother XR3774
This machine comes with 37 unique built-in stitches, including a great selection of decorative stitches. Also included in the package are 8 sewing feet, with buttonhole, zipper, zigzag, blind stitch, button sewing, narrow hemmer, walking and quilting feet. It also has a top-load bobbin which is way easier to handle than the other type of bobbin loading mechanisms. I've used machines with both the mechanisms and by far my favorite are the ones with top load bobbin.
I think it will make a perfect sewing machine for the very beginner. Also, the price is quite affordable considering all the different type of stitches that are included. My machine does not include all these stitches yet I paid way more for it than the price of this machine.
&
&
This machine was reviewed by 215 Amazon users and 83% of them gave the machine 5 stars which shows it's totally worth buying. Click here to check out the recent price.


This is the MOST affordable and best sewing machine for a beginner on the list and I think would make a PERFECT gift for someone enthusiastic about sewing. It fits in the budget and comes with 17 built-in stitches and also my favorite top-load bobbin system. And the best of all is the 25 year limited warranty.
People who have bought this machine are crazily in love with it based on the 4.8/5 stars it got on Amazon. So, if you know someone in your family who wants to start out with sewing and if your budget is less than a $100 I suggest you buy this machine as a holiday gift. It will DEFINITELY make the receiver's day. You can check out the recent price here.
This is another machine which is great for someone with a budget of $100. It's almost like the XR3774 but this one comes with fewer stitch options. Instead of 37 stitches there are only 27 built-in stitches in this one.  However, more people bought this one compared to XR3774. It also has a built-in needle threader which I wish I had on my sewing machine as it would've made things SO MUCH easier. Plus, it comes with  1-Step Auto-Size Buttonholer. I think these are some great features for a $100 sewing machine.
This machine got 4.6/5 stars from the customers on Amazon where 76% gave it 5 stars. Get the current price here.

This machine is above $100 but then I think it's totally worth it due to HUNDRED built-in stitches it has which includes decorative and heirloom stitches. And you know what's my favorite part about this machine? You can do Basic Monogramming with it! Oh, if only I had this machine available near me at this price.
This sewing machine comes with a quilting table too. So, if you're looking for the best sewing machine for beginner quilters as well as sewists, I think this sewing machine would be a perfect fit. Click here for the current price.
This is another great investment for a small price if you have a budget of $200. This is a computerized sewing machine which has 70 stitches that can be customized in style with built-in clothing, decorative, heirloom and quilting stitches.  It also comes with an extra wide table which can be very helpful while dealing with large projects. This machine is especially designed for couture sewing so if sewing LOTS of BEAUTIFUL clothes is your goal this machine is for YOU. Want to know the current price? Click here.
That was the list of the best sewing machine for beginners by Brother. Now let's have a look at the inexpensive sewing machines for beginners by Singer. Click the image below to go to the page with the list of Singer sewing machines for beginners.

Be my sewing buddy and get a FREE colorful sewing planner!
Just enter your name and e-mail address in the boxes!
Don't forget to check out these awesome posts too!